Go From Sad To Happy…Fast!
Sometimes LIFE simply sucks.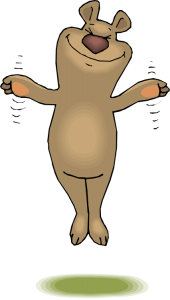 That's just the way it is.
No matter what you do or don't do, sometimes you just feel off-balance, devoid of hope or strength to carry on.
Do you ever feel like that?
I sometimes do, but I don't let it knock me down.  I might bend a little, I might shed a few tears, but then I realize that I won't accomplish any of my goals by allowing myself to feel self-pity for very long.
In fact, if I give energy to self-pity, I have to take it away from self-confidence and that is not what any of us really want, is it?
So here are a few tips for making your life vibrant and filled with renewed hope each day, no matter what your circumstances.
All of them are about your singing voice. 

Treat your sadness as though it is a destination rather than a dwelling place
How?  Think of the sadness like it is a place someone is inviting you to go to
Call it something, like "Sadness City" or "Sad Street" or "Sucky Sad Place"
Create a phrase that you say out loud that comes from "that" person, such as "Hey, you want to go there with me?  It's an easy way to take your mind off things, like all your responsibilities.  You have too many of them anyhow and it isn't fair.  You don't need it.  That just weighs you down.  You have such a hard life that you deserve a break to feel sad.  You won't feel out of place there because everyone there KNOWS they have a hard life too.  So we can help one another by showing why we have a right to stay sad.  It's great and it's free!
Create an answer to this invitation, something like "No, that is not where I want to go now, but thanks very much for the offer."  Say it out loud.
If that doesn't help, start all over again with a different line of reasoning from the "person" who is inviting you
Find another way to say "No."  Start confronting "them."
Repeat this until you realize that the choice of sadness is your own choice.
Your circumstances don't necessarily change but your mindset does.
Now Start Singing and Get Those Endorphins Going!
Scientific studies show that singing releases endorphins, those feel-good hormones you get after exercise or laughter.
Singing causes you to concentrate on something other than your worries and everything that makes you sad or anxious.
When you sing, you breath more deeply and so you get more oxygen in your bloodstream.
Singing works muscles deep inside your body that you usually don't reach, even when you work out at a gym!
Singing helps you to communicate with others better, and as you know, much of sadness has to do with your interpersonal relationships.
Make a choice to get happy today by singing!