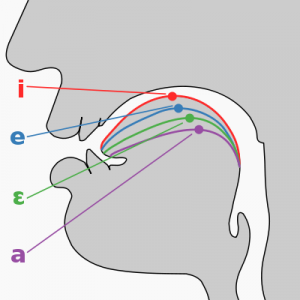 Odd picture, isn't it?
But the truth is, we all use our singing tongues to communicate with each other.
Somehow that doesn't sound quite right, but hey, I'm just going to get this information out as fast as I can, so forgive me if I don't edit myself while I'm writing.
I really meant to say that we all use vowels to communicate with one another and that we form the vowels with the shapes of our tongues.
Anyhow, here's the important part of what this picture is all about:
The vowels are what you use to sing on, not the consonants.  I mean, really, try singing on an "sssss" sound.  Good luck!
Each vowel requires a slightly different position of the tongue
This chart uses phonetic symbols to show 4 cardinal vowels.  That just means 4 vowels that use an "extreme" tongue position, but I don't want to spend too much time on the definition, I want to get right to the point about how these vowels and their tongue positions affect your singing voice
Let's take them by color and how they sound.

The purple is for the vowel sound you hear in the first syllable in the word "Alaska" (I used to live there)
The green is for the vowel sound you hear in the word "cat"
The blue is for the vowel sound you hear in the word "pet"
The red is for the vowel sound you hear in the word "feet"

You can see that the purple one is at the lowest position and the red one is at the highest position
Now, take a hand mirror and watch your tongue as you say each of the words above that are used to represent the sounds in the chart and answer these questions in the comments section below:
Where does your singing tongue go?
How does it feel in your mouth.
Which vowel is the hardest to do while your singing tongue is touching your lower lip?
Why do you think it's the hardest?
IMPORTANT!
MAKE SURE THE TIP OF YOUR SINGING TONGUE IS RELAXED OVER THE LOWER TEETH AND GENTLY TOUCHING YOUR LOWER LIP, WHICH IS DIFFERENT THAN WHAT THIS PICTURE SHOWS!
Try this and then tell me what this felt like when you tried this.  Use the comment section below.
You will never think of your tongue the same again after you begin to keep the tip of your singing tongue forward!
ENJOY and ask questions in the Comments section below!
Remember, YOU DESERVE TO BE HEARD!