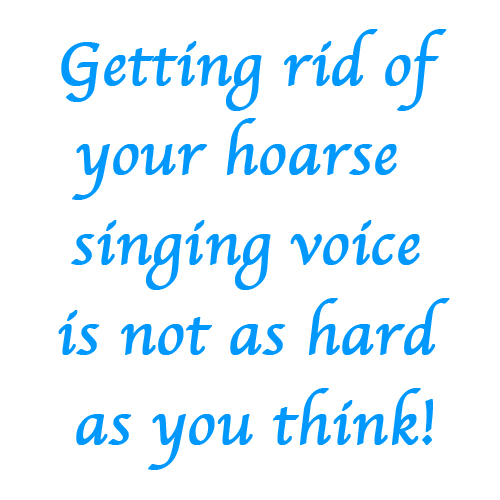 People ask me about how to deal with singing hoarseness all the time, and I have written about it before.
But because the way to succeed at stopping singing hoarseness is to know what causes it in the first place, I want to share 3 key things that usually cause hoarseness and what you can do about it… 
No (or inadequate) knowledge of singing techniques that can prevent hoarseness
Fear that comes from not having (or applying) that knowledge
Damage (usually not permanent) that results from not having that knowledge
Honestly, that's about it.
If you don't know the simple singing techniques and singing mindsets that can prevent hoarseness to begin with, you will repeat the same patterns that caused you to look for help for singing hoarseness to begin with. Right?
Okay, then, here is what I suggest:
Make sure you get good vocal training from a voice professional who does not get hoarse themselves! Seriously, I've seen too many ads from so-called "experts" who do more damage than good that I just had to say that. There… that's now off my chest Whew!
Honestly ask yourself what you are willing to do to get the help you need and deserve. If your car isn't running would you try to fix it yourself without anyone helping you, even though you didn't know a hex key from a hatchet driver? Of course not! You would take it to the best and most honest mechanic your could find.
So think of your voice the same way. Get the best and the most honest help you can get to protect and maintain the most valuable tool you have: YOUR VOICE!
If you would like me to personally help you, I am only too happy to do that. Just me  leave a comment below that says, "Joy, I want personal help now and I'm ready to pay for the best and most honest person I can find."
Then we can take the next step to find out if I am the best fit for you because there is absolutely no "one-size-fits-all" when it comes to the voice!
Reread the above.
In the meantime, be sure to read more information about singing hoarseness.
Most of all, take your voice seriously. I do!