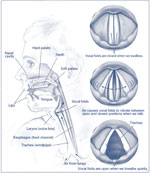 Do you get a hoarse voice from singing?
I gave a Skype singing lesson tonight and my student and I were doing a serious session about the singing tongue.
We did a few tongue exercises and then we reviewed a little bit from my first singing tongue lesson post, mostly using the photo below the crazy "I Can Has Cheeseburger" type cat at the top of the post.
We talked about the importance of the tongue and how it can muffle the sound of the voice if it is pulled back in the throat, forcing the epiglottis down so that the vocal cords then have to work harder to get the sound out of the body.
And that led us to the subject of what causes hoarseness from singing.
I have articles about that subject, but I wanted to find something more visual, more alive for her to relate to.
So I did a quick YouTube search and found this very informative video made by Dr. James Thomas, M.D. in which he does a great job of clearly explaining how a person can get a hoarse voice from singing.
It is so good that I decided to post it here for you.
After my student watched the video, she was blown away it. She said that she always thought that a hoarse voice came from singing too long.
Many people think that way, but it is simply not the case.
Here is what I told her:
So you have discovered that the voice doesn't get hoarse from over singing but rather from not knowing how to use the breath properly to support the tone, or from too much tension in the back of the tongue, right?
It can get hoarse from over-singing if you mean by pushing the voice to try and sing "over" the hoarseness or the tightness, yes?
So it is not from singing too much but from not singing with a technique that helps you free up the tension in and around the vocals so they do not get overtaxed, right?
It was cool to listen to her response to this video that I just had to embed the video here for you own discovery of why you might be getting hoarse from singing.
The good news is that you don't have to get hoarse from singing!
You don't have to get vocal polyps!
You CAN LEARN TO SING WITHOUT GETTING HOARSE!