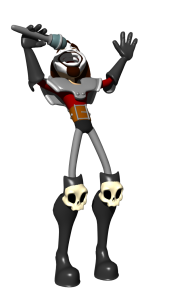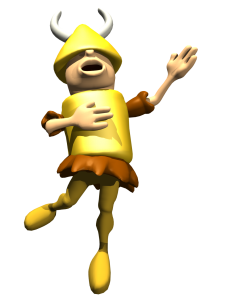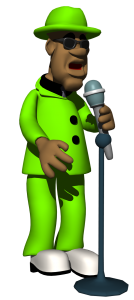 Whether you want to sing hard rock, opera or R&B, when you sing high notes, you will need to know how to use your Adam's Apple correctly.
So what is this apple thing?
Do only males have it?
Is it supposed to be up or down when you sing?
I'm going to answer these questions one at a time.
What is an Adam's Apple?
Simply put, it is the your thyroid cartilage.  Well, that may not sound simple, but it really is.
Take a look at this picture of a larynx or voice box and you'll see what I mean.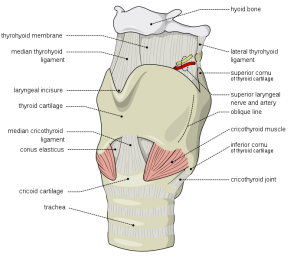 Notice the "saddle" shape thing in the middle of the picture.
That's your thyroid cartilage.  It is the largest cartilage of your larynx or voice box.  Behind it is are your vocal cords.  Your vocal cords are delicate and your thyroid cartilage protects them.
As you grow up, this cartilage tends to enlarge during adolescence and it's size varies with each individual.
It's official name is "prominentia laryngea,"  which means the prominence of the larynx.  Prominence means that it is something that stands out or is physically noticeable.
How large or noticeable it is depends on the angle at which the cartilage grows forward
Are males the only ones who have Adam's Apples?
Nope.
Females have them too, but they are usually much smaller and less noticeable or not visible at all.
Everyone has a thyroid cartilage because its function, as I mentioned above, is to protect the vocal cords.
However, the growth of the cartilage is often associated with a change in voice.  While this saddle-like thingy is growing in the male voice, it can be accompanied by all kinds of seemingly uncontrollable sounds, from squeaks to rough outbursts that can often be puzzling or embarrassing.
Is it supposed to be up or down when you sing?
The quick answer is down.
Why?
If it goes up when you are singing it means that muscles are pulling it up and tightening up the area around your vocal cords, therefore creating tension where you want relaxation.  This will definitely interfere with your ability to sing high note.
Here is a simple way to understand this:
Close your eyes
Lightly place the tips of your index and middle fingers on the area we are talking about
Hum – this will allow you to easily feel the vibrations of your vocal cords, which is what allows you to speak or sing
Feel the place where the protuberance is, or, in other words, find the bulge that is your apple (thyroid cartilage)
Gently move your fingers around until you can feel the "saddle" part of the apple
Swallow and notice whether the apple goes up or down
Yawn and notice whether it goes up or down
You will discover that it goes up when you swallow and down when you yawn.
It goes up as part of the swallowing mechanism because there is a flap of flesh attached to the tongue called an epiglottis that has to go over the windpipe when you swallow so that you won't get anything down into your lungs.
If the epiglottis goes down, it closes off the the air passage, which closes off the power that allows you to sing.
The higher you go in pitch, the tighter this area can become.
The tighter it becomes, the harder it is to sing high notes without cracking.
The secret is to RELAX YOUR APPLE

The way you relax your apple so that it doesn't go up is to think of yawning while you are singing.
Try this:
Close your eyes again
Lightly place the tips of your index and middle fingers on the apple again
Hum again but on a low note
Notice whether or not the apple goes up on a low note
If it goes up, yawn and then think of yawning as you hum it again
Do this until it doesn't go up at all
Once you master this, try letting the hum go a little higher but without the apple going up
If it keeps moving up, start over until  you can hum without it going up
Then move the hum up little by little, all the time keeping the apple low by thinking of yawning
Relaxing your jaw and tongue will help with this
Eventually, with the kind of concentrated practice that enables you to deeply observe what is going on with your apple, you will begin to sing higher and higher without breaks, tension, cracks or trouble.
Pretty soon you'll be soaring higher than you ever dreamed!
But it takes work so do what you have to do and love every minute of it!
Reward yourself for your patience instead of getting frustrated with yourself.
All of this has to do with your mindset about your voice, and particularly your singing tongue mindset
Your work and perseverance will pay off!
If you have more questions about this important topic, please put them in the Comments section below.
Thanks,
Joy