A few days ago, Jo asked me a question about what to do about nervous singing while in front of people, so I'm answering with this article about the 3 major things that can help you overcome singing fear by facing your fear in singing.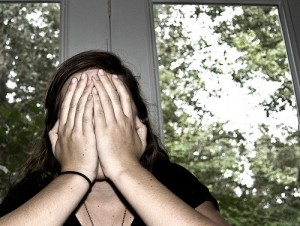 Sounds complicated and I will explain, but…
…first I have a story to tell.
Nervous singing or being anxious about singing is….OMG, so real, so painful, so….ok, now I am going to faint.
No, seriously, I'm going to tell you a true story about how I fainted the first time I sang for a college recital when I was taking voice lessons and learning how to sing.
My own Nervous Singing
I remember having HUGE anxious thoughts while I was waiting to go out on the stage.
I was petrified!
Anxious me began to sweat, hyperventilate and everything that adrenaline does to my nervous system when I'm scared.
In fact, when I finally went out onto the stage, my nervous singing was so bad that I shook  a car struggling to start but never did and  finally died.
Which is almost what I did.
Died.
Of fright.
Okay, well, I didn't die, obviously, or you wouldn't be reading this.
But I did faint.
Really.
I didn't fall down, although I was sure I was going to.  But I blacked out so badly that I went temporarily blind.
No kiddin'.  I'll never forget it.  I could not see anything but a dark wall in front of me that shut out all light and felt like I had been buried under the ground and I could hardly breath.  I felt like I was suffocating.  It was horrible, and none of my teachers had taught me clearly how to face fear in singing. To be honest, I didn't even guess that I would be so afraid. It came as a shock!
The piano was behind me and I just grabbed it and held on and kept singing, even though my knees were collapsing under me and my anxious face must have looked like it had seen my own ghost!
It was awful and I bet my singing was awful.  At least I know that it was nervous singing and nervous shaking so severe that it must have sounded awful, although no one ever said so.
But I knew it.
I knew how scared I was and how badly it had affected my singing breath, which, as my teacher had told me over and over again, is the support that has to be under control in order to sing well.
So, yes, you guessed what the first of the 3 things you can do to get over nervous singing.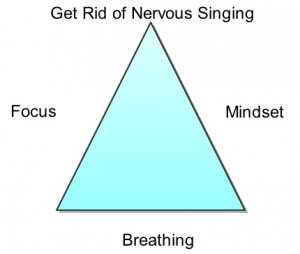 #1 – Improve your singing breath control
I always recommend the dog pant and the slow leaky tire as 2 singing breathing exercises that you can do before you go out in front of people.  Better yet, do them daily and you will have better muscle control when the panic attack starts.
#2 – You have to change your mindset
Your mindset has to do with getting rid of anxious thoughts about your life, about what people will think, about how you will sound and simply listen to the music inside of you.
What you believe about yourself will cause you to panic or pull it together and that all starts way before you get up to sing.  It starts with a silent place inside of you, that place that makes you want to sing.  Remember that singing is natural.  The thing that happens that is unnatural is how we let everyone else's opinion mess us up inside.
Think about what it was like to sing when you were a child, before anyone ever said anything unkind to you about your singing.  Did you care what anyone thought?  No, of course not.  You only cared after someone messed with your head.  So now you have to undo that junk and get the right kind of singing mindset inside of you.
#3 – Focus becomes your best friend
Focus is partially a combination of #1 & #2.
For instance, the slow leaky tire directions tell you to pick a point out in front of you and send your breath to that point.  You can't be distracted and do that activity well, but if you stay focused on the point, you will start to feel how the diaphragm works to control the stream of air that you sing "on."
So, when you sing, don't think about what everyone else is thinking.  Think about your singing breath, think about relaxing your shoulders, focus on a "tunnel" in front of you to send your breath through, focus on how singing makes you feel good, how much you enjoy singing, how you LOVE singing.
Forget about everything else and just focus on singing!
BONUS – All 3 happen while Stepping in Place
Okay, so this is something I came up with because where I live it is hard to get out during the winter and I don't like going to a gym but know that I need to exercise to stay healthy and sing well.
So, I started stepping or running in place in the mornings.  I actually do 1,200 steps in place or around the inside of the house. During 200 of those steps, I swing my arms above me like in a "jumping jack" and then for the final 100 steps I focus straight ahead of like a laser beam and go as fast as I can, sort of like you would imagine a Marine might do, although I have never been in the military myself.
Which gets to my final point, something my best voice teacher taught me.
She used to say that if you want to sing well you have to be like an athlete and if you think about those 3 things above, plus the Bonus, you'll see that it is the sort of thing that athletes learn to do.
#1 – Breathe Deeply

#2 – Change your Singing Mindset

#3 – Focus on a Point in Front of You

Bonus – Run or Step in Place
That's all for now so now go do the dog pant and the slow leaky tire, then run or step in place until you are panting then do the dog pant and slow leaky tire again….and again…and….well….you know what I mean.